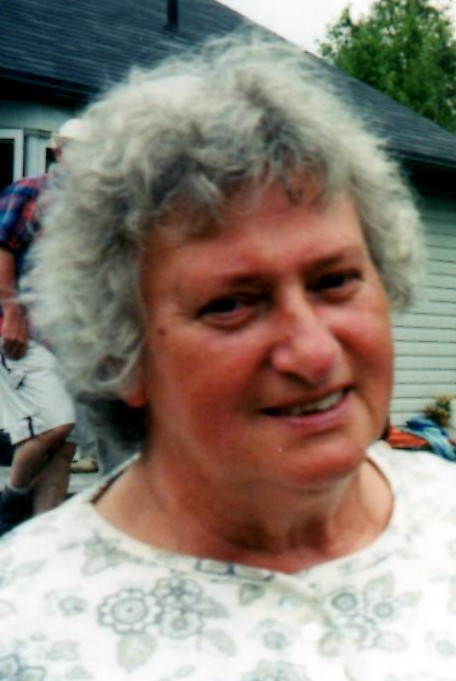 Barbara Anne was born November 8, 1938 in Greenock Township to parents Albert and Emma (Zettler) Sutter. She was the fourth youngest of thirteen children (four boys and nine girls). Their family farmed and Barbara was soon educated at the Todd School before finishing her education in Walkerton.
In addition to helping on the family farm, Barbara soon began assisting neighbours with babysitting and chores around their homes. It was here at one of the babysitting jobs that Barbara met one Andrew Anthony Vandenberg, who was also helping on the farm. Their relationship blossomed and at the age of twenty, Barbara married Andrew on December 27, 1958. Within a couple of years their family began to grow, and boy did it grow! Charles was born in 1960, followed by Dorothy in '61, Albert '62, John in '63, Gerald in '65, Paul in '71, Elizabeth in '73, Sharon '74 and Gregory in '76. As you could imagine life was very busy in the Vandenberg home. In addition to raising her young family, Barbara also spent countless hours working outside with Andrew on their farm. They both worked very hard and made use of their entire 150 acres, raising animals as well as producing fruits and vegetables. When Greg reached the age of twelve, Barbara once again headed outside the home for work and proceeded to drive school bus for the next twelve years.
In case you didn't know, Barbara was a fantastic cook, just ask her children. They have many fond memories of their mom's homemade meals. Then there was all the food she froze and who could forget her canning talents. She was always on the look out for a new recipe, as well as constantly cutting out or writing out new recipes. As if caring for nine children wasn't enough, Barbara also loved her animals. There was always one and often two dogs when living on the farm, and who could forget the barn cats. She loved them all dearly and in recent years welcomed her four legged feline friend Smokey, into her home. Barbara also loved knitting, pottery and doing crafts. She enjoyed collecting a variety of coins, spoons and treasured her miniature die cast antique car collection.
In 1994, after a two year battle with prostate cancer, Andrew passed away. For the next ten years Barbara remained on the farm, often renting out the land. However, in 2004 she decided to downsize, moving a few kilometres east down the 2nd of Brant to Sideroad 30. Here she enjoyed spending time gardening in her flowerbeds and using her lawn tractor to maintain her property.
Retirement left Barbara more time to watch her beloved soaps, "Young and the Restless" and "Bold and Beautiful." She also loved to pass time reading. Barbara would read anything, (except gory novels) but the magazine "Women's World" was a special favourite as it always contained new recipes and a crossword puzzle that she always enjoyed.
Barbara's children always loved coming "home" to see mom, as she was the centrepiece of their family. She was fiercely independent, always displaying courage to those around her. Apparently, she could also be strict and a little stubborn, but my guess is that nine children did not compliment these qualities. She enjoyed keeping to herself, living a quiet lifestyle.
Sadly, Barbara was recently diagnosed with terminal Cancer herself, and after a brief battle passed away at Hanover & District Hospital on Sunday, September 16, 2018 in her 80th year.
Beloved mother of Charles (Winny) of Rosetown, SK, Dorothy (John) Voordenhout of Burlington, Albert (Alice), John, all of Calgary, Gerry (Sharon) of Brampton, Paul (Jen) of Angus, Betty (Rick) McCabe of Springfield, Sharon (Mike) Sauve of Cornwall and Greg (Amanda) of Angus. Barbara will be dearly missed by her ten grandchildren and their families. She will be fondly remembered by her sisters Agnes Downing, Laura Newman, Frances Mampaey, Carol Black, sister-in-law Lorna Sutter and dear friend Jack Lindenschmidt. Barbara was predeceased by her husband Andrew (1994), brothers Raymond, Edgar, Wilfred, Stanley and sisters Adeline Schlosser, Verna Schlosser, Joan McFarlane and Monica Dault.
In respecting Barbara's wishes, private family services will be held. Interment in Calvary Cemetery, Walkerton.
Memorial donations to the Children's Wish Foundation of Canada or Plan International Canada would be appreciated as expressions of sympathy.