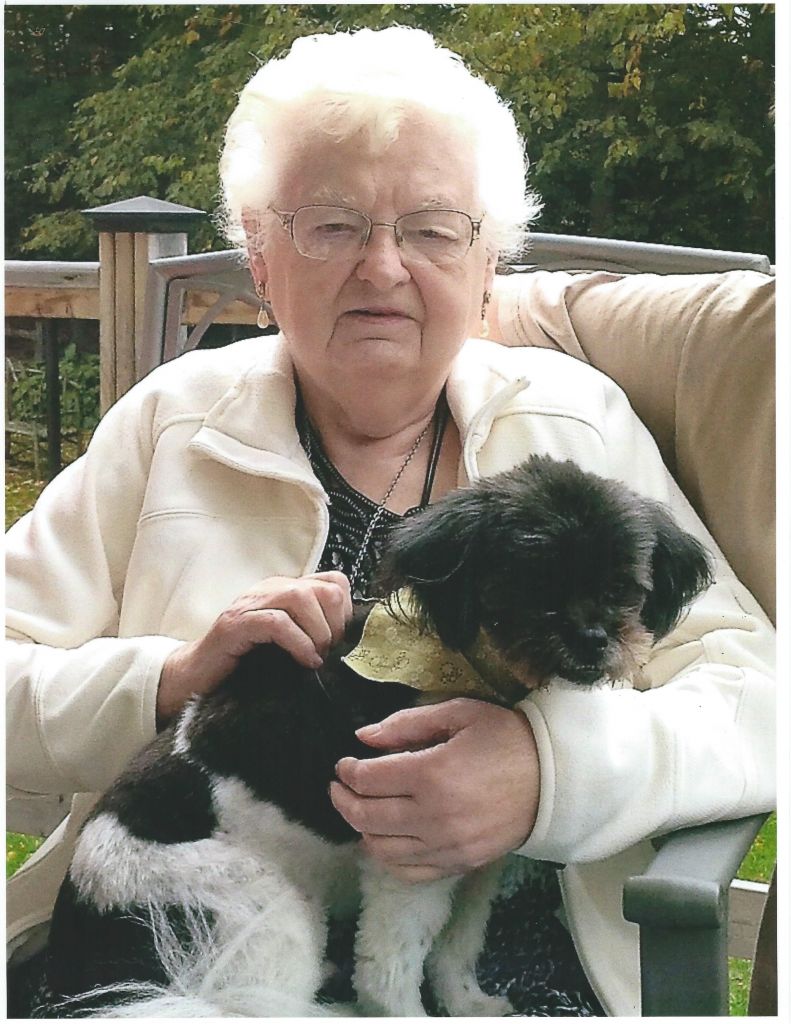 Elda Mae was born on Saturday, October 15, 1927 at home, in Sullivan Township, to parents John Christian and Priscilla (Gougeon) Bluhm. Elda Mae was the oldest in her family. However her father was married prior and she was blessed with four older siblings. In time, she welcomed younger siblings Stella, Harold, Doris and Allan and the Bluhm family was complete! She attended public school west of Desboro and followed that up with high school in Chatsworth. Following high school Elda Mae headed to the city to find work. She had stops in Toronto and Kitchener, where she worked in housekeeping at St. Mary's Hospital.
The Batterman family and Bluhm's were very close and spent a great deal of time together. On one trip home Elda Mae was introduced to one Adolph Routenburg, who had been working with the Batterman thrashing crew. As the saying goes, the rest is history. Elda Mae and Adolph were married on April 6, 1946 at the Bluhm family farm. The couple soon settled on the 2nd of Holland where they began their family. They welcomed Doreen in 1947, Brian in 1951 and Joyce in 1954. Elda Mae was a fantastic mother and cared for her children deeply. In fact, Brian was born premature (2 lbs. 3 oz.) and Elda Mae was told by the doctor that she could take him home to die. Imagine! Elda Mae had different plans though, so she created an incubator for him on the wood stove door, feeding him hourly with an eye dropper. This is but one instance of her determination and love for her family. Around 1957, Adolph and Elda Mae relocated west of Williamsford where she continued raising her young family. When the children got older, Elda Mae headed back into the workforce where she worked for a variety of factories in Mount Forest and Owen Sound over the years. Retirement became official the day she turned 65! It was then that the Routenburg's called Williamsford home and continued to do so until Adolph's death in June of 1996.
In her free time, Elda Mae loved to knit. That could mean socks, mitts, sweaters or anything in between. Her children and grandchildren benefited from many of these beautiful creations of love. She would also never pass up a good game of cards, especially Euchre, or a game of crokinole. She absolutely loved to dance and attended dances regularly. After Adolph's death she found a new partner in Wilf Moody. Wilf too loved to dance and they remained close until his death. Elda Mae also loved to garden. She spent countless hours over the years nurturing and maintaining her vegetable and flower gardens.
When time permitted, Elda Mae enjoyed being an active member of the community. Over the years she was involved with the Women's Institute in Williamsford, was an active member at St. James Lutheran Church and was also an Auxiliary and Legion member in Chatsworth. Elda Mae loved bright colours, particularly red. She would never miss an episode of Y & R and thoroughly enjoyed watching the Queen's Plate and Kentucky Derby on TV. Elda Mae thoroughly enjoyed her music, particularly The Gaithers or anything country western. When it came to food Elda Mae had an apparent fondness for seafood. Her drink of choice? Well, Scotch of course! In fact, every evening after supper and before bed Elda Mae enjoyed a shot of single malt scotch. This tradition continued until her final days.
If you knew Elda Mae, you knew she was not afraid to say what was on her mind. She was a direct communicator and it is fair to say you always knew were she stood! She was easy going and there for anyone during a time of need. She was a "good old soul." Elda Mae was so proud of her four grandsons and their families. To be honest, she became a mother and grandmother figure to many as the years passed by, a role she enjoyed and took seriously. When not caring for other people, there was always her beloved four-legged friends. She loved and cared for a variety of cats and dogs throughout the years, but recently Patches, her Shih Tzu, was her true companion.
In February of 2018, Elda Mae's declining health forced her to transition from her own home to Georgian Heights in Owen Sound. Here she lived out her remaining days with the love and support of her family. Sadly, Elda Mae passed away at Grey Bruce Health Services, Owen Sound, surrounded by her family, on Monday, April 30, 2018 in her 91st year.
Elda Mae (Bluhm) Routenburg of R.R. #3 Chesley, passed away surrounded by her loving family at Grey Bruce Health Services, Owen Sound on Monday, April 30, 2018 in her 91st year.
Loving mother of Doreen (Gerald) Sulkye of R.R. #3 Chesley, Brian (Becky) of Williamsford and Joyce (Ken) Walker of R.R. #1 Chatsworth. Elda Mae's memory will live on in her grandsons, Kevin, Gregory (Galit), Keith and Shawn (Jaime) as well as her great-granddaughters Fella Mae, Audrey and Julia. She will be remembered by her brother-in-law Niels Jensen. Elda Mae was predeceased by her husband Adolph, brothers Norman, Elmer, Harold, Allan, sisters Marie Dirstein, Florence Dirstein, Stella Routenburg and Doris Jensen.
Visitation will be held at Rhody Family Funeral Home, Chesley on Thursday from 2 – 4 and 7 – 9 p.m. A funeral service celebrating Elda Mae's life will be held at St. James Lutheran Church, Williamsford on Friday, May 4, 2018 at 11 a.m. Interment in Shiloh Cemetery.
Memorial donations to St. James Lutheran Church, Heart & Stroke Foundation or the charity of your choice would be appreciated as expressions of sympathy.