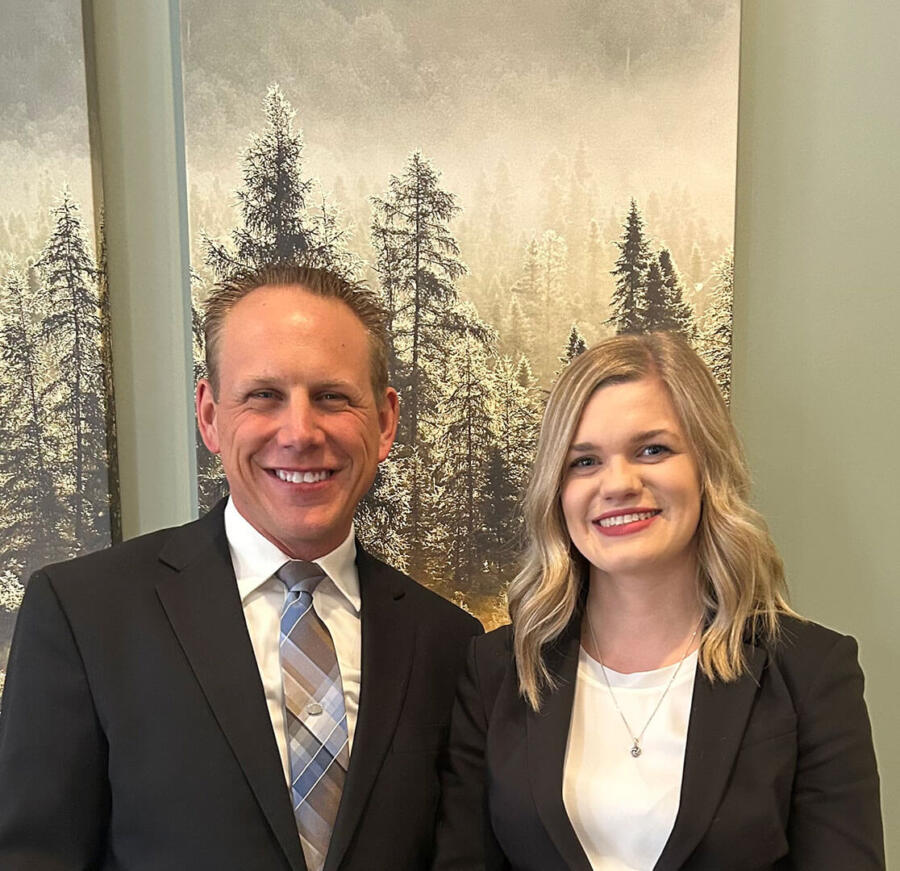 Nathan & Jana
Our Funeral Directors
Nathan Rhody
Nathan was born and raised in the Chesley area and attended Elderslie Central Public School and Chesley District High School. His start in funeral service began in 1999 as a high school co-op student, where he worked between Tanner & Pearson Funeral Home in Walkerton and McFadden Funeral Home in Chesley. After a successful co-op, Nathan enrolled in the funeral service education program at Humber College.
Upon graduating in 2002, he returned to Tanner & Pearson Funeral Home until September of 2004 when Jamie and Yolanda Cameron, owners of the Tanner & Pearson Funeral Home purchased the McFadden Funeral Home in Chesley. Nathan assumed the role of Managing Director for Cameron Funeral Home, Chesley until November of 2009 when he and his wife Christina purchased the funeral home in Chesley. His dream of owning his own funeral home became a reality.
Nathan and Christina have a daughter Brooklyn, born in October 2010 and son Landon, born in June 2013. Nathan and his family are supporters of many community projects and activities. He is an active member of the Chesley Kinsmen Club, Chesley Doctor Recruitment Committee, a member of the Board of Directors for the South Bruce Grey Health Centre as well as an executive member of the Georgina Bay Funeral Service Association.
What Our Families Are Saying
Nathan, Jana, Terri-Ann, and Darlene
We want to thank you for the amazing job you did surrounding the death of my mom, Iris Gateman. From those respectful beginning moments to the lovely services Terri-Ann officiated and Celebration of Life makes Rhody's the top funeral home in the area. By far. I've talked to several who have echoed my sentiments. It's the little things you do. The questions to help us process and the subsequent beautiful Life Story stand out as giving tribute to a life well lived. The professional printing jobs, the lovely keepsake box and Book of Memories, your help in sending out notification letters, checklists, and on it goes. Of top of mind is your quickness in responding to questions outside of normal business hours. There was no stone left unturned. This attention to detail is what makes the work you do stand apart. Throughout our journey, you've been kind, professional, helpful, and understanding. Our family appreciated it all. Thank you so very much.
– Cathy Slesser
---
Our family was extremely pleased with the level of professionalism, compassion and knowledge exhibited by Nathan and his staff. They took the time to carefully walk us through the process and options, and we were very impressed by the level of creativity that went into the various materials, including the video, banner and printed materials.
They were very responsive with any inquiries or questions that we had, and this all helped to put our minds at ease during such an emotional time. Terri-Ann was a wonderful celebrant for the service, and her follow up afterwards was greatly appreciated!
In the end, we couldn't have asked for anything more fitting to celebrate the life of our loved one. Thank you to all the wonderful staff at the Rhody Family Funeral Home!
– Gary Monk
Jana Kuntz
Jana was born and raised in Chepstow and is the daughter of Ron and Joan Ernst. She grew up on the family farm, helping with day-to-day chores and milking cows on her grandparent's dairy farm. Jana went on to attend Mary Immaculate School in Chepstow and then Sacred Heart High School in Walkerton. From a young age, Jana knew she wanted to help people. In 2011, Jana experienced the loss of her grandfather and witnessed firsthand the care and compassion that was provided to her family by the staff of the funeral home. Shortly thereafter, she began volunteering her time in the funeral home and quickly experienced the personal satisfaction that comes with helping families during some of their most difficult days. Jana attended Humber College for Funeral Service Education and received her Funeral Director's license in 2016. She obtained a wealth of experience working in Brampton and Guelph before moving back home to Bruce County in 2021 to be closer to her partner Dean Kuntz and her family. Jana and Dean were married on September 24, 2022, and now call Walkerton home.
When Jana isn't busy at the funeral home, she can usually be found surrounded by family and friends. She enjoys spending her free time in the kitchen, cooking a variety of great meals and baking treats to go with them! Jana keeps an active lifestyle and loves spending time outdoors, particularly long walks with the dog, canoeing and kayaking. Jana loves the many challenges that come with being a funeral director in a small, rural community. She puts her heart and soul into serving each and every family, always treating them like her own. Jana is dedicated and passionate about her work and always looks to go above and beyond, trying to exceed families' expectations at every step. She is a valuable member of our team and is looking forward to assisting the families of Chesley and the surrounding area for many years to come.
What Our Families Are Saying
I cannot express in words adequately how amazing you and the Rhody Family Funeral Home team are. I was a bit anxious when I heard Nathan was away, as we are all familiar and comfortable with him, but you (Jana) very quickly made those feelings go away with your calm, caring demeanour. You made one of the worst times in our life unforgettable in a positive way. Your attention to detail and the "special" things you did to capture who Dad was for the visitation were beyond anything we could have ever imagined. I really do hope Dad (and Mom) were able to see it from beyond. The sports display, farm display, to the card table with the personalized cards with the solo hand, and the caesar…and the dates on the curling stone…I think Dad did move that baseball to show how overwhelmingly pleased he was. And the idea to have a funeral procession go through Dad's lane way past his house and farm… and the rubber boots in his driveway on the way by. Nathan, Darlene, Bonnie, even Grant (stopping traffic on the main highway for the procession) are all remarkable at what they do… They know our family and know when humour is appropriate and brought lots of smiles to our faces too. Terri-Ann was also amazing and created a beautiful, personalized service with just the right amount of "God" in there. I had so many people say how nice it was to not just hear about God and sing the standard hymns, but to hear about Dad and have readings that were about him. Thanks for all of the last minute things you did and for being so accessible. It was truly an incredible experience.
– Jackie Thomson Grieve
---
Words will never be able to express our families appreciation and gratitude for Rhody Family Funeral Home. Jana was exceptional in every aspect. Her guidance and compassion through a very difficult time left our whole family blessed to have gone through that experience with Rhody Family Funeral home. Thank you both, Jana and Nathan.
– Josh & Becky Bester
Terri-Ann Mattiasson
Terri-Ann was born in Ottawa and raised in Manitoba. From 2000 – 2009 she was pastor at St. Mark's Evangelical Lutheran Church in Chesley. Upon returning to the Chesley area in 2014 she joined Nathan and his family as a 'wanna be' Rhody! Terri-Ann helps with day-to-day office operations as well as serving as Celebrant, designing and implementing creative ceremonies that reflect the wishes and beliefs of the deceased and their family. Terri-Ann can be contacted any time at terriann@rhodyfamily.com.
What Our Families Are Saying
Our Mom's funeral preparation and service was truly above and beyond anything we expected. Nathan and his staff treated us with kindness and with such amazing thoughtfulness which helped us to begin to heal. Being able to talk about our Mom and then to read the incredible life story that Nathan wrote about her, meant the world to our family. Nathan's attention to detail was evident in that he ensured there were personal touches in memory of Mom at the funeral. Terri-Ann was very respectful of our input with the service itself which meant that Mom's wishes were honoured. The funeral was recorded, edited, and posted on the Rhody Family Funeral Home website. This keepsake allows our Mom to stay alive in our hearts. It was a sad but beautiful day and we are forever grateful to Rhody Family Funeral Home for taking care of our Mom.
– The Ruff Family
Darlene Rhody
Darlene was born and raised on a farm outside of Neustadt. Following high school she was employed at the Royal Bank in Hanover, for New Life Mills as well as Cameron Funeral Home in Walkerton. When Nathan purchased the funeral home in Chesley, she joined him there to help out. When not at the funeral home, Darlene loves being Nana to Brooklyn, Landon, Jackson, Cooper and Hazel!
Bonnie Gallinger
Before joining Rhody Family in 2015, Bonnie was employed at Bruce Power for 29 years. She retired from her position of Human Resources Consultant/Benefits Administrator in 2010. As Benefits Administrator, she was responsible for health and dental benefits, life insurance, long term disability and pension administration for Bruce Power employees and pensioners. Bonnie and her husband Ron have two daughters – one resides in Calgary and the other just outside Elmwood. She caters in her spare time and loves to be with her two grandsons – Lyle and Garrett. She is proud to be part of the professional and hard-working team at RFFH.
Andrew "Andy" Brandsma
Before joining Rhody Family on a part-time basis, Andy worked as a funeral director at Hardy-Lee Funeral Home, Harriston, Eaton Funeral Home, Listowel and several funeral homes in Hamilton. Andy was a manager in various textile industries for many years and was President of the Canadian Textile Association, before retraining as a funeral director in 2011. Andy with his wife Andi, served as missionaries in the South Pacific for a few years and have a son in Norway and a daughter in the Hamilton area. Andy loves living in Chesley and serves on the Board of Directors for the Chesley Community Church. He loves to garden, canoe, kayak, tinker, shoot a bow, hike and hunt and may take up curling again. Andy appreciates how much care is provided to each grieving family that comes to RFFH.