Reasons Holding Funeral & Cremation Services in Paisley, ON Make Sense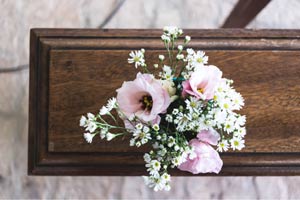 It is a delight and honor for us at Rhody Family Funeral Home to assist families in their time of greatest need when a loved one passes away. We have been offering affordable funeral and cremation services in Paisley, ON and the surrounding areas. As a locally owned and operated funeral home since 2009, we provide a value added service when you are not completely happy with any part of our service, we will make every attempt to correct the situation. You will not be charged for that service item if we are unable to rectify it to your satisfaction. We are so pleased with the functionality of our facility. The flexibility of our layout allows us to accommodate a broad range of services. Give us a call today at (519) 363-2525.

Because death is a natural part of life, throughout human history, final arrangements such as funerals have been around for as long as anyone can remember. The experience of making plans for services such as a funeral home and cremations in Paisley, ON, may cause you to ponder what the purposes of these services really are. When it comes to services in this sector, they basically fill two significant needs. The first is the imminent priority of handling the deceased remains in a sanitary and respectful manner. The second need surrounds those who are grieving.
The need to care for the deceased remains can be fulfilled in various ways. For example, the body could be buried immediately once all paperwork is in place and a burial site has been arranged. Or the deceased could be held in cold storage while decisions are made. For families seeking to have a public viewing, embalming may be necessary. This process expels the blood and fluids from the deceased and disperses a sanitizing and preservative solution in its place.
Another option is to have the remains cremated. In this process, the body is transformed into a few pounds of granular "ashes." This involves a secure chamber, intense heat that leads to combustion of the contents within, and a collection of the remaining fragments for the family to place as they see fit. Getting the required paperwork and permits prior to cremation is mandatory. The body will be held in cold storage during the interim.
An honoring ceremony such as a funeral service, a memorial service, or a life celebration can all be wonderful ways to lay your loved one to rest. The purpose here is to honor the departed, but the main benefit is to those surviving this loss. Here are a few ways this can occur:
Acceptance: Honoring services, particularly those held with the body present (like a funeral service), can more readily invite closure and acceptance of the loss.
Remembrance: These events help us recall the one who has died and share memories of their life.
Activation of the Support Network: When those who share the loss gather, they reconnect and find ways to lift and support one another.
Expression of Mourning: These kinds of events often give place for us to express those deep and vulnerable feelings when we experience loss.
Find Meaning: Validate the significance of one life and honor their memory.
Value Life and Legacy: Reflect on your own existence and any legacy you wish to leave when you pass.
How to Get the Most Out of the Services for Funerals and Cremations in Paisley, ON
Planning the final arrangements around the lens of a life celebration can be a great way to honor an individual soul beautifully. Focusing on remembering and celebrating the things that made this individual unique can bring comfort and hope to the surviving loved ones. These honoring events may be very formal or quite casual. Finding simple ways to highlight little details can be meaningful and support catharsis and healthy grieving patterns. These kinds of customizations might be layered within services for funeral and cremation in Paisley, ON.
Resources to Support the Bereaved
While services such as a life celebration and/or funeral service have so much to offer to support grieving loved ones, it will likely not be enough alone. Grief is a journey without a specific timeframe. Though there are landmarks, no one will have the same experience as they work through the mourning process. This path is much less challenging to trod with support and resources to help you through. Your chosen funeral home can offer you information about local and digital tools and professionals who serve to uphold the bereaved.
Selecting a Trusted Funeral Home Near You
It is vital that you choose a funeral home that you feel you can trust when you are planning for final services such as funerals and cremations in Paisley, ON. Some good things to consider when looking for a provider are:
Experience: What are the experience levels of the staff and the establishment?
Highly Rated: Are there quality reviews coming out of a particular funeral home?
Transparency: Is there transparent pricing of services?
You need to know the people you hire know what they are doing. Choose experience, especially when you've been able to hear first-hand positive reviews. You'll want to work with someone who respects your budgetary needs and helps you find solutions that you feel good about within those bounds.
The caring and committed staff at Rhody Family Funeral Home is prepared to help you in any way they possibly can. Your family will be in good hands here. You can learn more about our policies and procedures by calling (519) 363-2525 and scheduling an appointment. Our welcoming location is found at 65 4th St SW, Chesley, ON N0G 1L0, Canada.
Funeral Home and Cremations FAQs
What to do if death occurs at home?
If a death occurs at home, you'll need to contact the funeral home directly, make your own arrangements, or enlist the help of a friend or family member. When getting in touch with a funeral home, it will give you peace of mind since they absolutely know what do to. You may be asked if you want an autopsy by the doctor. This is a medical technique carried out by a properly trained physician to determine the cause of death.
What is talk of a lifetime™?
Have the Talk of a Lifetime™ is a global campaign that encourages families to talk about life and the things that matter most to them. Individuals are assisted in making critical decisions about how they wish to be remembered through the telling of their life narrative, which can also assist families in honoring the life of a loved one when the time comes.
Is it good to preplan your funeral?
Make preparations ahead of time.
Calculate how much your funeral will cost.
Inform your family about your funeral plans so they are aware of your wishes.
Make a list of the specifics of your funeral services.
Make financial plans to cover the cost of your funeral.
Organize and document your most important personal data.
Learn more about funeral pre-planning.