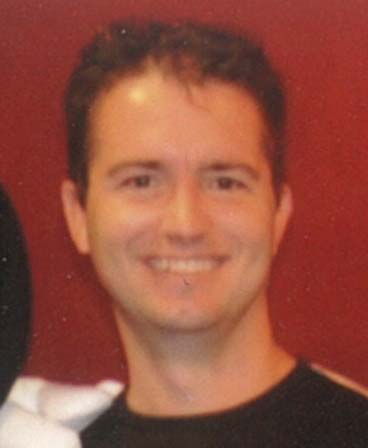 Hope and heartbreak in Toronto
Life as a Maple Leafs fan!
Peter Robinson
Rob and his family lived with the hope that someday the Maple Leafs would win the cup. However, more importantly, they hoped for a successful treatment or a cure to rid him of his 19 year battle with Oligodendroglioma. Just like the Leafs, Rob battled every day, fighting and never giving in to this horrible disease. He was an outgoing man, who always remained positive and wore a smile on his face. He was a true inspiration to all the lives he touched!
Robert Dwayne was born January 29, 1977 in Leduc, Alberta to Stephen and Janet (Charlton) Burrows. He was the youngest of three, Chris (1973), Jeff (1976) and Rob. In time the family moved back to Ontario, Clavering to be exact and then to Chesley. He started school at Elderslie Central in Chesley and then moved to the Desboro area and attended Sullivan in Grade Three. When time came for high school, he attended Chesley District. If you knew Rob back then you would remember his days, or should we say nights, at Domino's Pizza in Owen Sound. He enjoyed this job and excelled at even becoming a part owner for a short period of time while still in high school, imagine! Apparently, there were few friends or family that didn't work at Domino's at one point or another while Rob owned it.
When not at school or at work, Rob was often in the company of his high school sweetheart Kim Knapp. The two first started dating young, with Rob in Gr. 9 and Kim in Gr. 8. Just like any teenage love story their relationship had its ups and downs, but it was meant to be. To be honest they were exact opposites, but this made their bond even stronger. Rob also loved his baseball. He played, coached, ran a variety of leagues and even umpired. In his youth, his goal was to be a professional umpire. Apparently, he knew how to play the role too, as on one occasion he gave Kim a warning, before threatening to throw her out of the baseball game he was overseeing. Yikes! Rob's love didn't just lie in baseball, as he also taught power skating.
Upon graduation he followed Kim to Hamilton and enrolled in a Business College. During this time, their relationship flourished and Rob and Kim got engaged. Sadly, Rob's first seizure occurred on Kim's last day of college. They decided that a little tumor wouldn't stand in the way and they married on August 14, 1999 at St. John's United Church, Chesley. They remained in Hamilton with Rob working for Lawlor Safety. The young couple soon welcomed their first daughter Nicole in February of 2001 before moving back closer to home in the spring of 2002. Here he worked in the design department at Hanover Kitchens and later as a dispatcher for Telesat. In time, Rob, Kim and Nicole welcomed Natasha in September of 2003 and Tyler in August of 2008. Their perfect family was complete!
Rob was a true sports fanatic! If he was to play, it would be baseball. If it was on TV, it had to be hockey, or more specifically the Toronto Maple Leafs. Rob never missed a game and Tyler would often be found snuggled up with him watching the games. When they weren't watching them on TV, Rob and his family would attend sporting events. Tyler and Rob attended the home opener of a Leafs game and the whole family made play-off games and enjoyed seeing the Blue Jays in the "best seats in the park!" Rob's teachings went beyond baseball and hockey – he coached soccer, broomball, womans baseball and eventually entered the house of poker. By the young age of 5, Tyler had learned from Rob the true art of playing the game and Tyler wasn't to be beat!
Rob enjoyed travelling when able and had particular fond memories of his honeymoon in Cuba, or should it be said he loved Cuba on his honeymoon. 🙂 Of course, spending any time with the kids was always a highlight for him and their trips to Florida in 2011 and 2016 were particularly special. As a family, they enjoyed camping and visiting amusement parks. Rob loved rides! They were always up for a new adventure and experiences.
He really enjoyed watching his children grow. Although he was limited in what he could do with his kids, wife and family in later years, I am not lying when I say they were his world! He loved them all so much. So instead of doing, he tried to lead by example. A story was told of one of Rob's first medical appointments, whereby he and Kim entered his neurologist's office and the walls were full of children's pictures. It was then that Rob knew that even though he was in a horrible predicament, he had a lot to be thankful for, and used this experience to fuel his day-to-day life. He was strong, determined and a fighter, encouraging his children to never give up no matter what obstacles they face it their life. He also worked extremely hard at anything he was involved in, never leaving anything to chance. His kindness and compassion was ever present and he was just a lot of fun to be around.
In 2014, Rob began working at the Re-Store in Hanover. He absolutely loved it as he was able to interact and socialize with those around him. In true Rob fashion, he decided later that year that he wanted to give back to those who helped him so much. So in the fall of 2014 Rob enrolled in the Registered Nurse program at Georgian College. Unfortunately, he was only able to complete a semester due to his health, but his family was extremely proud of him. In closing, Rob has left a lasting impression on the lives of his family and those close to him whom he touched.
Rob lived out his remaining days as only he could do best. Always putting on a smile and putting others in front of himself. Sadly, Rob's body could fight no longer and he passed away on Thursday, May 17, 2018 at the young age of 41.
Beloved husband and soul mate of Kim (Knapp). Cherished dad of Nicole, Natasha and Tyler. Rob will be sadly missed by his parents Stephen and Janet Burrows of Sauble Beach, brothers Chris of Saskatchewan and Jeff (Christy) of Mount Forest. He will be forever remembered by Kim's parents, Murray and Kathy Knapp as well as Kim's siblings, Melodie (Robert Wakefield), Angie (Dan Gravel) & Ted (Jenna) and their families.
Visitation will be held at Rhody Family Funeral Home, Chesley on Tuesday from 2 – 4 and 7 – 9 p.m. A funeral service celebrating Rob's life will be held at St. John's United Church, Chesley on Wednesday, May 23, 2018 at 2 p.m.

In lieu of flowers, memorial donations to a trust fund which will be established for Rob's children (please make cheques payable to Kim Burrows) or Make-A-Wish Canada would be appreciated.