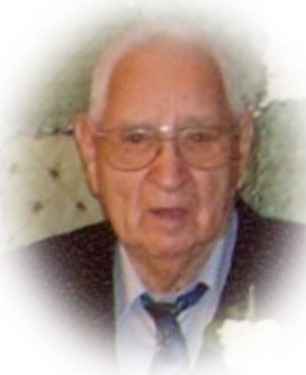 Wray Beverley Walpole was born on Saturday, July 14, 1928 in Lion's Head to parents William James and Ella Eliza (Harding) Walpole. Wray was the youngest of eight children, joining Cecil, James, Harold, Ila, Estella, Thelma and Alice. The Walpole family resided near Spry on the Bruce Peninsula where Wray began his schooling. In time, the family made stops in Wingham and Durham before settling in Chesley. Wray began high school in Chesley but soon decided that the workplace might suit him better. He left school during his Grade 10 year and started to look for work.
Wray's first job took him to the Spool & Bobbin Company in Walkerton before moving onto the Railway. One of his tasks with the railway included shovelling the tracks in the winter. The winter of 1947, and its snow, stood out in Wray's mind. He often told stories of walking on the snow banks and being able to touch the telephone or hydro lines… imagine!
In the spring of 1951, Wray was introduced by his cousin Donnel to a beautiful young woman by the name of Clara "May" Morrow. May also originated from the Bruce Peninsula and the two hit it off right away. They were married at Christ Anglican Church, Lion's Head on October 20, 1951. By this time Wray had started working at Hygrade in Chesley which later became Heirloom. The young couple soon took up residence on 3rd Ave. S.W.. Who knew then that they would call this home for the next 66 years?
Wray and May soon started their family, welcoming Larry in 1954, Bob in 1956, Gary in 1960 and last but not least their daughter Janice in 1964. Wray was active in the Air Cadets as a teen and helped with Scouts while his children grew. The family also enjoyed camping. Wray and May first bought a tent, but Wray quickly realized he could do much better. He soon began gathering the supplies he needed to build his own tent trailer. Yes, you read that right. On the rare occasion Wray would treat himself and head out for a day of fishing. To be honest, if Wray wanted to, he could make anything with his hands. His children joked that he would never throw anything out, so if you needed something Wray could often hook you up! He also had a great passion for woodworking. In fact, he made a variety of wood products for himself, his family and others over the years. When not working with wood, Wray enjoyed spending his spare time just tinkering around.
After his Hygrade days Wray spent a bit of time working with Roy Slumskie and later Orville Stinson in their electrical businesses. Wray finished his working career with Krug Bros. and officially retired in 1990 after a short stint with North Country.
Wray thoroughly enjoyed gardening. He spent many hours tending to his tomato plants, raspberry bushes and who could forget his Dahlias. May also enjoyed gardening, so they could often be seen working hand in hand together. They enjoyed day trips together and on a few occasions attended the Royal Winter Fair. Together they attended many performances at the Chesley's Grand Ole' Opry as well as the Bijou Theatre, always preferring a good comedy.
Wray enjoyed the summer months where he would often sit out on the porch and just watch the world go by. He liked to read, particularly Westerns, and was fond of older country music with the likes of The Irish Rovers, Stompin Tom, Don Messer just to name a few. When it came to food Wray was fond of macaroni and tomato, loved his Roast Beef and enjoyed BBQ'd hot dogs. Now if you were lucky enough to go out to a restaurant with Wray you would know he would often order the same meal, grilled cheese and French fries.
In 2015, May's health had declined to the point where Wray could no longer care for his beloved wife at home. She soon moved into Parkview Manor, with Wray regularly riding his scooter across town to visit her. In the fall of 2017, Wray followed suit, and the couple were reunited again.
Wray Beverley Walpole of Chesley, passed away surrounded by his loving family at South Bruce Grey Health Centre, Chesley on Sunday, March 25, 2018 in his 90th year.
Loving husband of May (Morrow). Beloved father of Larry (Paula), Bob (Donna), all of Chesley, Gary of Chatsworth and Janice (Graham) Waite of Owen Sound. Cherished grandfather of Kyle (Megan), Chris, Shawn (Sabina), Shelby (Jordan), Sherrylee, Kate and Adrienne. He will be fondly remembered by May's siblings Margaret (Ken) Gaunt of Hanover and Dave (Janet) Morrow of Lion's Head. Wray was predeceased by his brothers Fred, Cecil, Franklin, James, Harold, Elgin, sisters Illa McDonald, Estella Myles, Thelma Blacklock, Alice Nixon and his parents William and Ella (Harding) Walpole.
Visitation will be held at Rhody Family Funeral Home, Chesley on Wednesday from 2 – 4 & 7 – 9 p.m. where a funeral service honouring Wray's life will be held on Thursday, March 29, 2018 at 1 p.m. Spring interment in Chesley Cemetery.
Memorial donations to the Chesley Hospital Foundation or Parkview Manor Residents Fund would be appreciated as expressions of sympathy.